It was my pleasure to meet you yesterday.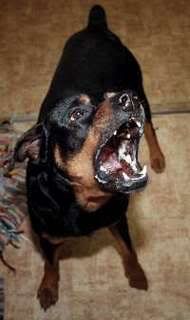 Actually, um, we need to talk about that.
I was just innocently starting out on a lovely 8 mile run. A loop I haven't done in a while, with lots of quiet little sidestreets and nice tree-lined roads. And just when my Garmin said "0.15" on my odometer, I passed Nasty German Shepard's house, like I usually do. Nasty (we can call her Miss Jackson) was out, as usual. Now, Miss Jackson and I have an understanding. I run on the other side of the street, which is clearly NOT her turf. She barks like hell and snarls at me, running up and down her yard, but does NOT cross the invisible fence line. Scares the bejeezus out of me, every single time, but does NOT cross the invisible fence line.
You see, Bella? Apparantly, you didn't get the memo.
You, my friend, appear in the yard as well. You are quite a stunning Rottweiler. What are you, about 75? 85 pounds? Very impressive.
Anyway, your idiotic owner must have decided it was a good idea to:
A) leave you in the front yard unattended, and since you are not a regular, you don't understand electric fences
B) tied you to some freaking tent stake with a ROPE. A small, piece of twine that I might use to tie up my newspaper.
So, it was to my dismay that you decided I was somehow invading your turf, and you SNARLED, IMMEDIATELY BROKE YOUR ROPE, AND CHASED ME.
Now, Bella, that just ain't cool.
I love dogs. Really, I do. And I'm not crazy about big dogs, but as long as they are cool and happy, then I'm down with 'em.
You were SO not cool and happy.
I really would like an apology.
Miss Jackson just stared at you like she was jealous that she didn't get to rip me to shreds herself. Luckily, I just so happened to see a white picket fence that I jumped over to avoid being your prey, but not before I bashed my leg into the pointy top, tearing my tights and leaving a throbbing bruise several shades of purple, green, and yellow.
I do want to thank you, however, for not jumping that fence. I'm not sure why you didn't, because you could have, but I'm quite certain that would have been the end of me.
What really bothers me, Bella, is the way the neighbor whose door I knocked on, and how your owner reacted. I mean, the neighbor laughed and said, "Oh, Bella got loose again?"
Again? Bella, really. How many times does a pissed off 75 pound Rottweiler really need to get lose before someone realizes THAT MIGHT BE A LITTLE DANGEROUS?
And as I stood there, throbbing leg and a few tears kind of falling down my cheeks as I tried to breathe, breathe, breathe again, your owner WAVED at me and smiled?
WAVED
? WTF is
THAT
?
So, really Bella, I ain't mad at cha. I'm a little stunned and perplexed as to how this happened and the idiocy of your owner, or babysitter as it appears to be. I really just would like a promise that it wouldn't happen again. I know you could eat me and my 18 pound pug for a snack, and I respect that. I will not invade your turf, but please don't assume your turf extends a quarter mile down the street.
And while we're at it, I did finish my run. A little out of breath and a lot with a throbbing leg. My leg hurts like the dickens. Thanks for nothing, beeyotch. (Literally.)
Sincerely,
TriSaraTops