OK, now first of all....
I guess I shoulda explained
WHAT
cornhole is.
First of all, it is
NOT
:
1. Dirty or perverted.
2. Apparantly well-known outside of Ohio.
It
IS
:
1. Ridonkulously fun.
2. Played often at parties in Ohio.
3. Better after a few beers.
Here is a site on Cornhole
so you can SEE I ain't makin' this up. It has its roots in the 'Nati, aka Cinci-nasty, aka where I spent 5 years of my life and went to college at good ol'
Mother Miami
. I remember playing cornhole at my little bro's house he shared with a bunch of friends. It's a simple, Midwestern thing, but hella fun. Kinda like me.
So that should clear up any confusion! :)
So yesterday we decided, after many friends called, to just DO the s'mores night anyway! I mean, we're hearty Cleveland Folk! We put a damn hat on and still make a fire and HAVE FUN! And that's exactly what we did.
My insanely cute niece, enjoying her very first s'more!
I'm glad we did it--it turned out to be a cold (33 F) evening, but a
beautiful
one, and we had about 15 friends and family come over throughout the evening to enjoy s'mores, some hot apple cider, some snacks that
TriAl
brought over, and some beers. A good time was had by all!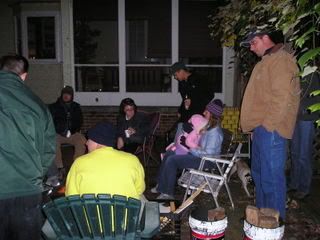 My adventurous friend, Sarah, is always up for big plans. We backpacked the Grand Canyon together last April, whitewater rafted in WV in 2005, and now our new plan is to hike the Inca Trail!
My niece, sis-in-law, and me smile while Cort tries to stay warm in the background!
Here's me and the awesome TriAl, sportin' his Oakland A's hat...
So now it's time for the weekend...looks like it's gonna be a chilly one, so I am going to try and get my workouts in dressed very warm! Never fear, folks....next week it will be back in the 60s. Gotta love this schitzo-Cleveland weather. At least we didn't get a foot of snow dumped on us like poor Buffalo, NY!
Moral of the story: don't let a little cold scare ya. Friends, family, s'mores, and yummy drinks will warm you right up.