A funny thing happens when you don't look for stuff.
You find it.
When you forget how much you love competing against yourself, you remember at the strangest times. When you don't think about being a triathlete, you realize again and again that that's what you are. That's
who
you are.
I got in the pool yesterday for the first time in a month. I just simply couldn't sit and stare at my computer screen of
IronmanLive
anymore...I knew my friends
were out there
, and I knew I had to wait. No sense in wasting any more time. I'd already done all the random little tasks I needed to do. So, what do I do?
Head to a pool--on the other side of town--because I just really felt like I needed to swim.
All that IronmanLive-ing woke up the TriSara spirit, and it was like I was on autopilot.
Must.
Find.
Pool.
So I did, and didn't really expect much--first time in a pool since late September! But I put on my Zoot suit and my goggles, and walked into the pool....and got the stupidest smile on my face.
You know you're a triathlete when you
SMILE
as you go underwater in the pool.
Man, I love this stuff.
So I busted out my first 100 warmup. Not expecting much, of course. Looked at my watch....
Huh?
It said I just swam it at a pace that, last January, was my 100 yards all-out pace.
.....huh?
Kept going, and did 1000 yards. Checked the watch, and did it
faster than most of my time trials from last year.
"Um, hi, guard? Is this pool 20 yards long?"
*looks at me like I'm nuts, since clearly this is a pool used for teams to swim, as all the records are posted on the walls*
"No...it's 25 yards...we have teams race in here."
*stupid grin*
"OK! Great, thanks!"
I then ended with 100 fast and hard...just to see.
Looked at the watch...and wouldn't ya know it? Faster than any 100 I did during IM training!
It kinda reminds me of the time at Miami U, when my senior year, I had 2 exams on Green Beer Day. Green Beer Day is the Thursday before Spring Break, and the bars open at 5am with insane beer specials that increase every hour. My grades were good, I knew I was going to graduate with honors in 2 months, so I decided, "You know what? I'm going out on Green Beer Day. And that's that." So I did--went out at 5am, had some green libations, stopped consuming around 7, had some coffee, took my first exam (The European Union) at 8am and my second (International Politics) at 10. Went back to the bars after exam #2.
Got the tests back: A and B+.
So, I remember thinking, WHY did I waste all that time stressing about these exams, when I just got my two highest test grades in these classes on
Green Beer Day?
Moral of the story? Don't sweat it. Sometimes good stuff happens when you relax and trust your abilities.
Today, I went up to a
little race
. I knew nothing of what my body would really do, since I feel like I haven't done much fast stuff since MC Hammer was on the charts. So, I found
BuckeyeRunner
,
DaisyDuc
, CanadaJenn, and my awesome Mom.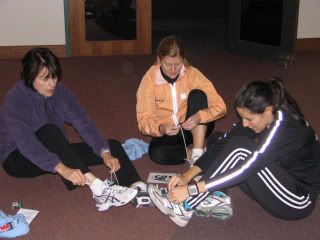 TriSaraMom, CanadaJenn, and I suit up for the race
We wished each other well, and then took off!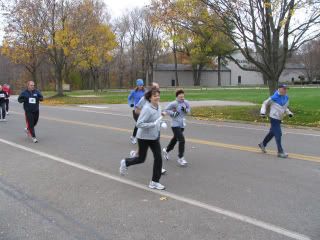 TriSaraMom looking strong! Yes, folks, that's my MOM--not my sister
In my head, I really just hoped I could hold sub-8 minute pace for this race. I was pleased to see I was doing so until Mile 3...huh? Really? Did that time dude just yell what I thought he did?
DaisyDuc, kickin' butt, grabbin' the hardware in AG!
I saw the finisher's chute and kicked it into high gear the last (what I thought was ) 0.1 mile.
Look! It's a
BuckeyeRunner
on my tail! I'd better move or she's gonna SMOKE me!
I was bummed at the finisher time, but oh well. You know what? I had a blast. Who cares if it was not close to the time I had hoped for. I cheered for CanadaJenn as she came in and out-kicked some dude....."Get him! Get him!
GET HIM!"
I yelled.
She got him.
Then, I waited for my Mom. She came through very strong and kicked it at the end. I swear she gets stronger and stronger with each run she does!
Finally, I actually checked my Garmin.
3.19 miles.
Wait a minute......maybe it IS CLOSE to the time I was hoping for...
Daisy Duc
came up to me and said, "Hey, did that feel long to you?" I showed her the Garmin. I then saw another girl with a Forerunner on and asked her, "Hey, what does your's say for distance?" She laughed and said, "3.2. It's definitely long."
Sweet.
Pretty soon, the race director came on the PA and announced what my friend Mr. Garmin already told me: the course was a bit long--about a tenth of a mile. Adjust your times accordingly.
What a nice little surprise!
I then asked Mr. Garmin what my laps and pace were.
7:55 pace! YahoooooooooooIDIDIT!
The last 0.1 was really closer to 0.2....and I did that at a 6:41 pace! So I definitely could have ran faster, if I had that much gas left in my tank. But again, who cares? I had a blast, it felt great to be out there, and now I have something to gauge myself against for a few more little 5Ks here before the season ends in December.
So, to "adjust" that to 5K time, I did 24:32. Not anything earth-shattering for me, but hey, not too shabby. It felt good to be back. And I definitely finished strong.
Sometimes, when you just chill out and relax a bit and just GO, you realize you have fun. You realize why you do this. For the friends, the fun running in the finisher's chute with your Mom, the coffee afterwards at Panera. The time's just the icing on the cake.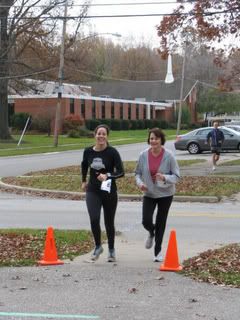 What will most likely be ANOTHER PR for the TriSaraMom!
I definitely am excited to try and chase my PR down here in the next few weeks. I think I can get it.
You can take the girl out of the triathlon....but you can't take the triathlon outta the girl.